Career Progression
We in the Economist Service (ES) believe in investing in our people – it is the only way we can grow and fulfil the objective of enhancing the economic analysis of public policies across the public sector.

As an Economist in the ES, you are likely to begin your career in the Economics Division (ECD) of MTI, the parent Ministry of the Service.

After two years in ECD, you will probably be seconded to other divisions in MTI, such as the Energy Division or the Foreign Economic Policy Division, or to other ministries or statutory boards to expose you to a wide range of policy issues.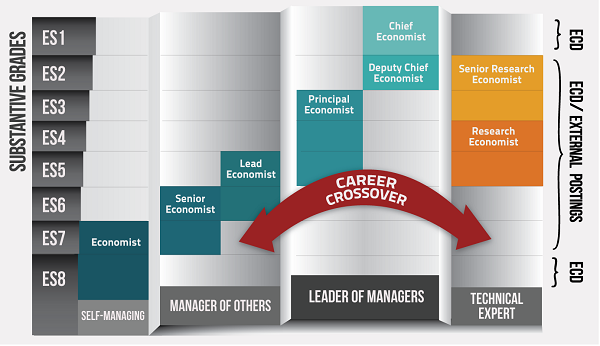 We provide a well-defined career progression pathway, with systematic rotation opportunities. This enables you to broaden your perspective and further your interests in particular fields of economics. Supervisory roles help you develop leadership skills as you rise through the ranks.


Our remuneration packages are benchmarked against the salaries of economists in the private sector, and are reviewed regularly to take market developments into account.


Learning and Training Opportunities
Postgraduate Studies
If you perform well, you may be offered scholarships to pursue full-time Masters or PhD degrees at top universities both locally and overseas.

Read about Andy Feng who is currently pursuing a PhD in Economics at the London School of Economics on an ES scholarship.


Courses at Universities
We can sponsor you for relevant postgraduate modules as non-graduating students in local universities if you wish to improve your technical skills.


Workshops
Our economists are encouraged to participate in workshops to improve your technical skills in such areas, as randomised evaluation, experimental economics, cost-benefit analysis and econometrics, and to improve your facility with statistical packages like Stata and Eviews, amongst others.


Conferences
You will have the opportunity to attend local and overseas conferences to keep abreast of the latest economic research and policy initiatives in relevant areas. Some of the conferences our economists have attended include the American Economic Association conference, one of the biggest international gatherings of professional economists, the European Association of Labour Economics conference and industry-related conferences like the International Consumer Electronics Show.


Attachments to International Organisations
Economists are sometimes seconded to international organisations, such as the Organisation for Economic Co-operation and Development (OECD). Such secondments not only provide good exposure but also allow you to acquire a better understanding of how international organisations operate.


Research Platforms
There are numerous platforms within the Civil Service for you to present your research findings.


The Economic Studies Forum – chaired by the Permanent Secretary of MTI – is a key platform where ES officers present their research findings to senior policymakers. Economists sometimes also present pertinent research at the Economic Forum and the Social Forum, both of which are cross-ministry platforms chaired by the Head of the Civil Service and attended by the Permanent Secretaries of relevant Ministries.