ASEAN Digital Integration
ASEAN is making important strides in its digital integration journey. The ASEAN region holds tremendous potential with its strong economic fundamentals, such as a 670-million strong market, a young, tech-savvy population and rising Internet penetration. Digitalisation is fast becoming a key driver propelling economic development, with sectors such as e-commerce, online media, financial services and ride-hailing registering solid growth.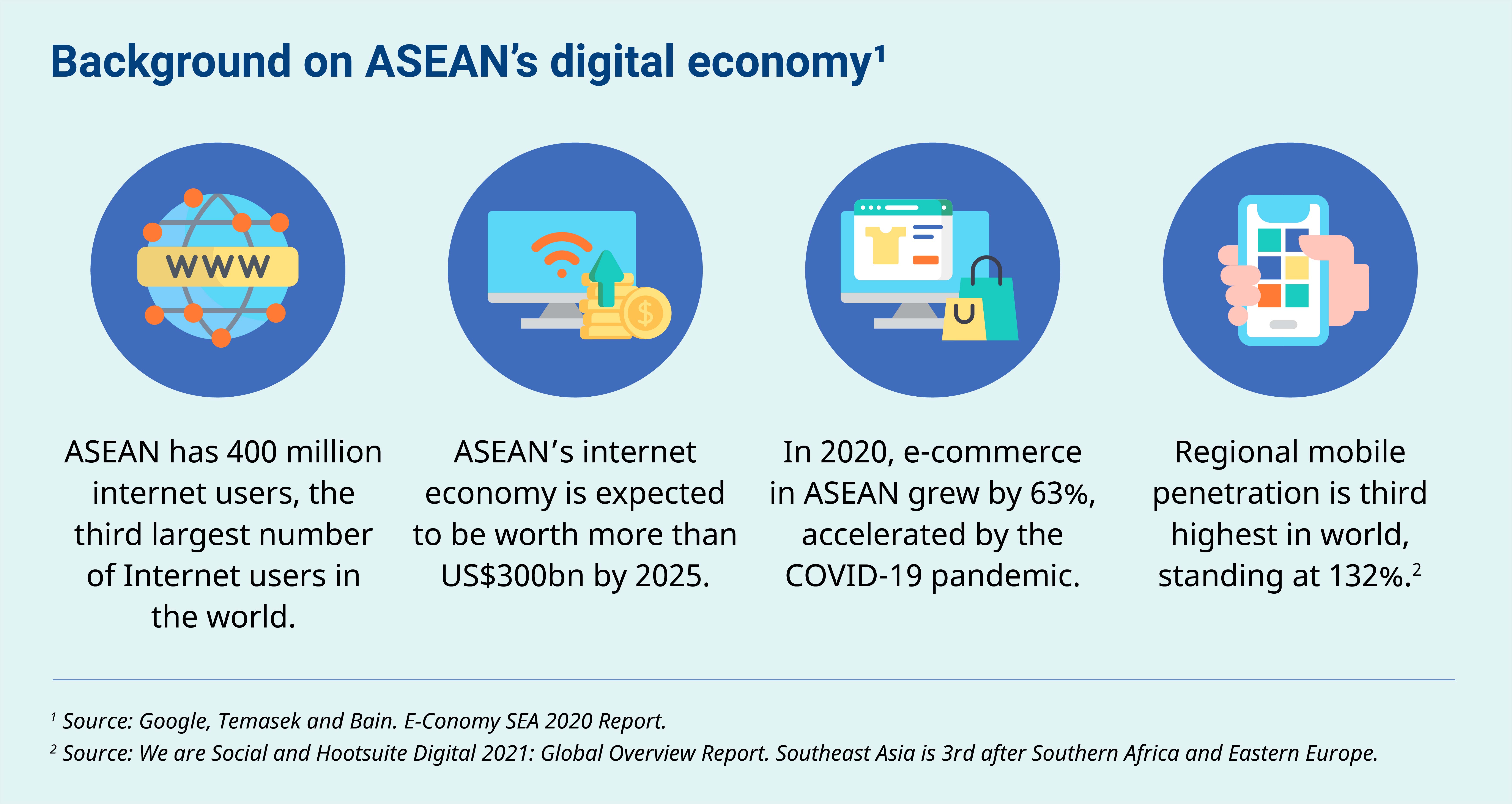 To harness the potential of digitalisation for the benefit of businesses and consumers, ASEAN has developed strategic frameworks and initiatives to guide its digital integration journey. These include:
The ASEAN Digital Integration Framework and its Action Plan (DIFAP), which functions as the overall blueprint for ASEAN's digital integration efforts and charts out digital priorities across a wide range of areas such as trade facilitation, data flows, electronic payments, entrepreneurship and talent. The DIFAP is comprehensive and versatile, encompassing comprehensive rules-based initiatives to thematic collaboration as well as pilots, reflecting the diverse digital ecosystem in the ASEAN region.
The Bandar Seri Begawan Roadmap: An ASEAN Digital Transformation Agenda to Accelerate ASEAN's Economic Recovery and Digital Economy Integration issued in 2021 redoubles ASEAN's efforts to accelerate digital initiatives, against the backdrop of the COVID-19 pandemic. The Roadmap outlines a multi-year plan to deepen ASEAN's digital integration and connectivity during the second half of the ASEAN Economic Community (AEC) Blueprint (i.e. 2021-2025). This includes conducting a study on an ASEAN Digital Economy Framework Agreement (DEFA) by 2023 and commencing negotiations for the DEFA by 2025, amongst other.
ASEAN Agreement on E-Commerce
Recognising the potential for digital economy to generate opportunities for businesses and communities, the ASEAN Agreement on Electronic Commerce was signed in 2018 during Singapore's ASEAN Chairmanship. The Agreement lays the foundation for increased collaboration on e-commerce and digital economy issues in the region, in line with Singapore's growing network of Digital Economy Agreements. ASEAN has developed a Work Plan to facilitate the implementation of the Agreement in 2021.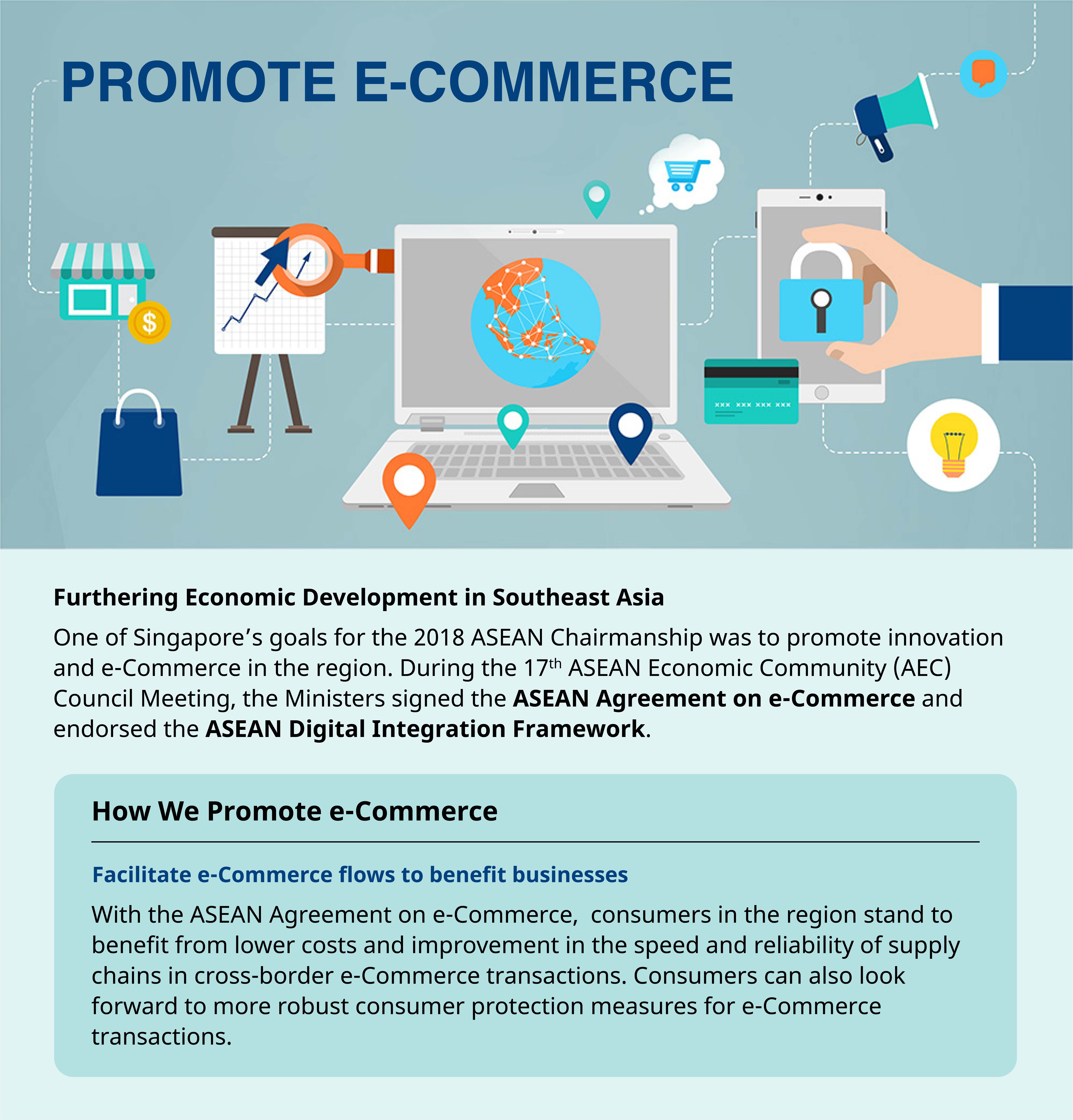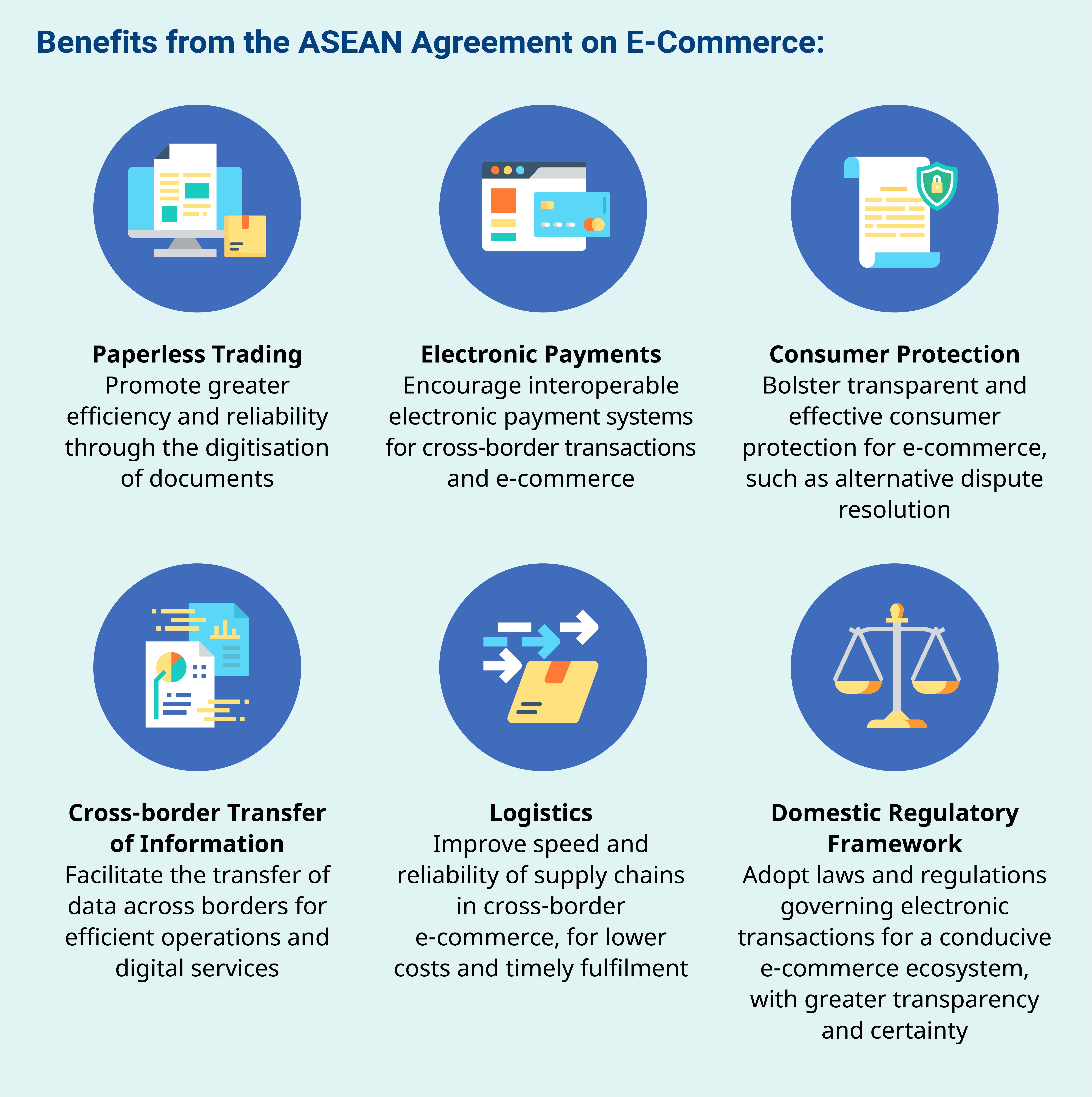 Initiatives for Businesses and Consumers
The annual ASEAN Online Sale Day (AOSD) was launched in 2020 to facilitate the growth of regional e-commerce and digital economy. The AOSD is open to participation from e-commerce businesses in the region. It aims to facilitate the flow of goods, services and data across the region, expand the reach of businesses virtually, underpinned by consumer trust and confidence.