Travelling Farm brings gardening to the masses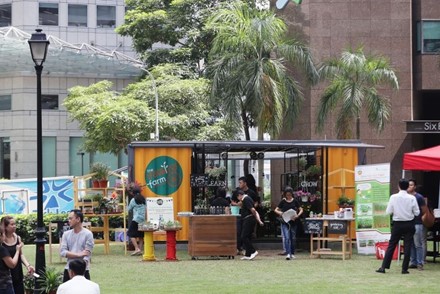 It must be one of the more improbable sights to greet the smartly dressed professionals bustling about the gleaming skyscrapers of the Central Business District - a colourful "farm" in Raffles Place Park selling potted succulents and hydroponic seeds.
The Travelling Farm, housed in a bright yellow, 20-foot, retrofitted cargo container, is a shop for plants and gardening equipment that also provides craft activities and a variety of mini gardening lessons that can be accessed 24/7 online.

Curious visitors can also sample drinks and snacks made from the farm's produce, such as a salad of microgreens like sunflower and cranberry hibiscus shoots.

The farm, which started its travels in December at Bougainvillea Park, will be doing three-month stints at Raffles Place Park, Dhoby Ghaut Green and Bougainvillea Park in a rotation that ends in December 2020.

The aim is to reach out to different groups of people, says founder Eng Ting Ting.

The farm adapts to its locale: It stocks more flora like air-purifying plants for CBD office workers but carries more herbs and plants like chilli while in the residential area of Bougainvillea Park.

The Travelling Farm's roving set-up is made possible by a Ministry of Trade and Industry scheme that gives innovative companies either an allocation advantage in acquiring assets such as land space - the farm still pays full licence fees, however -- or discounted prices for asset use.

The First Mover Framework, as the scheme is called, was set up in 2004 but revised in 2016 to have less stringent criteria.

"We enhanced this framework with the intent of trying to encourage more proposals from our start-ups, entrepreneurs and businesses to work with the government agencies to bring about innovative ideas that can address a certain consumer need, and improve productivity," said Mr Chee Hong Tat, Senior Minister of State for Communications and Information and Health.

Ms Eng approached the National Parks Board with the Travelling Farm idea after seeing increased interest in her firm's vertical farm, Pocket Greens. NParks then led them to submit a proposal.
The farm, which has been granted use of park space for 36 months, is one of two successful proposals under the enhanced framework. The other is a tie-up with Sports SG to provide a sports user experience centre.

Four proposals have been submitted since the framework was revised.

The new framework hopes to "support a pro-enterprise, pro-innovation culture", said Mr Chee.

"In a strong, competitive, vibrant economy, we need both larger corporations and also smaller SMEs and start-ups. The SMEs will help to supplement some of the gaps that larger companies by themselves may not be able to meet."

This story was featured in the Straits Times on 6 April 2018.